Maximal tear secretion evoked by controlled stimulation of corneal sensory nerves in healthy individuals and dry eye subjects.
Un estudio del Instituto de Neurociencias avanza en el diagnóstico del ojo seco
Utilizar la capacidad máxima de generar lágrimas como parámetro para diagnosticar la enfermedad de ojo seco es el objetivo de un estudio llevado a cabo por el grupo de Neurobiología ocular del Instituto de Neurociencias, centro mixto de la Universidad Miguel Hernández (UMH) de Elche y el Consejo Superior de Investigaciones Científicas (CSIC). El trabajo, publicado en la revista The Ocular Surface, plantea la estimulación ocular con un gas, en concreto dióxido de carbono (CO2), para determinar la capacidad máxima de lacrimación de los pacientes. Para esta investigación, se ha utilizado un nuevo dispositivo, denominado i-onion.
El ojo seco es una enfermedad que aparece casi espontáneamente con la edad y tiene muchas posibles causas. Algunos expertos señalan que la sequedad ocular se produce cuando se daña el epitelio de la córnea y disminuye la producción de lágrimas, lo que acaba provocando una alteración en los nervios oculares. Sin embargo, el grupo de Neurobiología ocular del Instituto de Neurociencias UMH-CSIC ha encontrado evidencias en el laboratorio que señalan que el proceso también ocurre de forma inversa, es decir, los nervios del ojo se alteran y su funcionamiento anormal acaba provocando cambios en el tejido corneal y disminuyendo la tasa de lacrimación.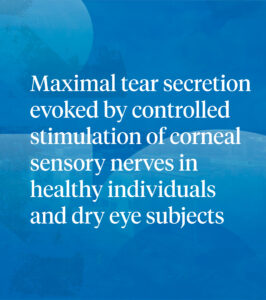 Las personas afectadas por esta enfermedad sufren enormes complicaciones para llevar a cabo actividades cotidianas. "Puede parecer una alteración banal, pero el hecho de que una persona genere poca lágrima disminuye de manera muy significativa su calidad de vida, porque el mínimo gesto de cerrar el párpado resulta tremendamente doloroso", explica la catedrática de la UMH Juana Gallar.La investigadora señala que una de las mayores complicaciones de esta enfermedad es la falta de herramientas cuantitativas para su diagnóstico, ya que, hasta el momento, este proceso se lleva a cabo mediante entrevistas a los pacientes. Para suplir esta carencia, los investigadores han determinado que la tasa máxima de lacrimación de los pacientes al estimular su ojo con CO2 puede ser un indicador efectivo para determinar el riesgo de padecer la enfermedad: "Durante la investigación detectamos que había personas capaces de generar una respuesta muy grande ante la estimulación, pero había otras que mostraron una respuesta más pequeña y es muy posible que estos sean los que, aunque ahora no lo demuestren, en un futuro acaben desarrollando ojo seco", apunta la experta en neurobiología ocular.
El estudio se ha realizado utilizando un nuevo dispositivo ideado por este grupo de investigación, en colaboración con la empresa Tearful. Se trata de i-onion, una herramienta totalmente portátil que permite realizar la estimulación controlada del ojo mediante CO2 sin necesidad de conectarlo a una fuente externa de gas ni a la corriente eléctrica. Además, no requiere de ninguna infraestructura específica, lo que permite su uso de forma ambulatoria en cualquier clínica.
Más información del artículo: https://doi.org/10.1016/j.jtos.2022.11.005
Fuente: Servicio de Comunicación, Marketing y Atención al Estudiantado – UMH
Research Groups