Our Neurotropic Vectors Unit is devoted to the production of delivery vectors of viral origin for the study of the nervous system in health and disease.
In recent years the delivery of molecular tools into neurons has become an essential approach to understand the mechanisms underlying brain function and brain disorders.
Genetically engineered viruses have become ideal vectors for introducing these tools into brain cells allowing neuroscientists unprecedented control over cells and circuits.
To facilitate the use of these state-of-the-art methodologies by our neuroscientists, the Vector Unit centralizes the process of producing and distributing neurotropic vectors.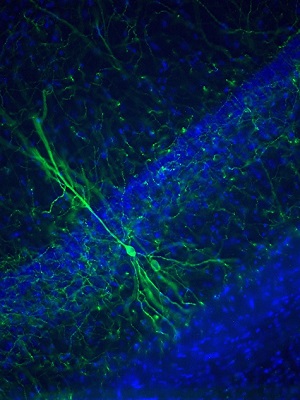 Hippocampal cell infected with a EGFP expressing AAV.(fig.1)